After-school special: Alternative Learning Center for the West Allis-West Milwaukee School District
Published: May 3, 2012 Jessica Stephen The Daily Reporter 7:00 pm Thu, May 3, 2012
Tags: Alternative Learning Center, Glenn Roby, Kahler Slater, Lynn Stein, Selzer-Ornst Co., WAWI Development LLC, West Allis-West Milwaukee School District
Challenges abound in West Allis-West Milwaukee School District project
By Jessica Stephen
Transforming the former Allis Chalmers executive office building into an up-to-code educational center for the West Allis-West Milwaukee School District took a lot more than incorporating the school colors, although that definitely was part of it.
"It was one of those projects that really touched on everything," said Glenn Roby, associate principal with Milwaukee-based Kahler Slater architecture firm, which designed the project. "It was technically challenging. It had its political challenges."
"I think looking back that's what made it such a great project," Roby added. "It had all the makings of something that could have gone badly."
From the start, money was an issue for the $1.64 million project, he said.
"They were pretty frugal," Roby said. "It's a school district. They don't have a lot of excess dollars, so right from the get-go we knew it would be lean."
The fact that the project took the building off the tax rolls was a political issue, he said, adding, that "is never a popular discussion locally."
Once construction began in August 2010, crews then faced the challenge of updating the five-story main building and adjacent two-story Cream City brick space.
For Lynn Stein, construction manager for Selzer-Ornst Co. in Wauwatosa, that included fireproofing the still-occupied two-story building, which meant taking apart drywall columns and putting them back together on weekends and holidays.
"We had to make it look like we were never there," Stein said.
The biggest challenge in the main building was the two stairwells, which had to be brought up to code. The main stairwell also served as the elevator lobby, which meant using a new plastic-type smoke guard to seal the elevator shaft on each landing to meet the fire code.
Upstairs, crews used a horizontal fire shutter to meet fire standards for glass doors, which were incorporated to open the space and let students see the personalized palette of school colors in the paint, flooring and millwork.
Each floor also had a different floor plan — one floor had corridors in the middle, another on the perimeter, the third a combination.
"So it doesn't feel cookie cutter," Stein explained.
It also helped maximize space, since the district "just simply did not have the budget to do some of the moveable partition walls we suggested," Roby said.
From beginning to end, the project involved solving problems and tackling challenges head on.
"It was really a balancing act," Roby said.
- Jessica Stephen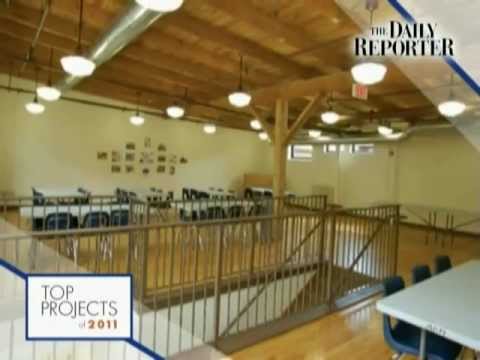 Location: West Allis
Submitting company: Selzer-Ornst Construction Co., Wauwatosa
Construction Manager: Selzer-Ornst Construction Co.
Architect: Kahler Slater Inc., Milwaukee
Engineer: Studio 1259, Kenosha
Owners: WAWI Development LLC, West Allis; School District of West Allis-West Milwaukee
Project size: 19,000 square feet
Project cost: $1.64 million
Start date: Aug. 9, 2010
Completion date: February 2011