By Matt Pommer
A smorgasbord of possible tax ideas is being offered by a group called Wisconsin Way. The buffet is a lot different than the menus being offered by politicians running in the November elections.
Most of the politicians say they'll reduce all sorts of taxes and Wisconsin will blossom economically. There is even some talk about reducing the recent 75-cent per pack increase in cigarette taxes. That would help the 20 percent who smoke, but it wouldn't do much for the state's economy.
Never mind that experts suggest those elected in November will face about a $1 billion gap between existing state tax levels and spending, much of which is returned to local governments and school districts.
According to Wisconsin Way, property taxes are too high. The group proposes to reduce taxes paid on property by increasing the state sales tax from 5 to 6 percent and allowing counties to increase their maximum sales tax from a half percent to a full percent. It would generate an addition $800 million for state government and up to $400 million for county governments.
Also offered is the idea of using fees rather than property taxes to pay for police and fire services. That means that groups now exempt from the property tax and those with low property values would end up paying for police and fire services with a fee. Among those to feel such a change would be churches.
The overall goal would be to reduce property taxes by 25 percent. The property tax is the one most criticized by senior citizens. That's not surprising, especially since Social Security is now exempt from the state income tax.
It also suggests that perhaps another $100 million could be raised by eliminating some of the current exemptions to the state sales tax. That idea is always difficult because those who have exemptions will fight tooth and nail to keep their exemptions.
Wisconsin Way also renews the idea of turning the interstate highways into toll roads, noting that non-residents and trucking firms would pay a significant piece of the tolls.
Local government consolidation may sound good, but it is usually vigorously opposed by the people who run local governments and school districts. Consolidation is nothing new. The topic has appeared in almost every discussion of how to reduce government costs.
But the status quo usually wins out.
Among the most controversial ideas is how to fund post high school education. Wisconsin Way suggests the University of Wisconsin try to get undergraduate students to get their first degree is three rather than four years. In reality, thousands of students are taking five or six years to get their degree.
Groups that participated in creating Wisconsin Way recommendations include: Wisconsin Education Association Council, Wisconsin Transportation Builders Association, Wisconsin Counties Association, Wisconsin Realtors Association, Transportation Development of Wisconsin, League of Wisconsin Municipalities and Wood Communications Group.
Various public employee groups contributed money to the development of the report.
The group's "blueprint for change" offers controversial ideas, but you can bet the politicians won't order anything from the buffet before November.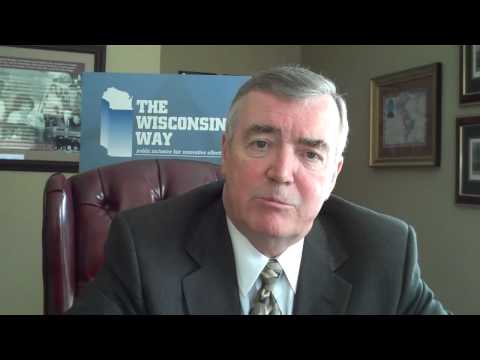 Matt Pommer worked as a reporter in Madison for 35 years. He comments on state political and policy issues.