The mayors of Wisconsin's two most populous cities are off to a quiet, yet turbulent start with the state's governor-elect.
Three weeks before inauguration, Republican Gov.-elect Scott Walker is advancing an agenda at odds with the interests of Milwaukee Mayor Tom Barrett and Madison Mayor Dave Cieslewicz, both Democrats.
Walker already thwarted a major transportation project both mayors say would have benefited their cities. But Cieslewicz said he is angry because he never had the chance to voice to Walker support for the Madison-to-Milwaukee high-speed rail project, which died last week when the U.S. Department of Transportation redirected nearly $810 million in federal stimulus money to other states including California and Florida.
Cieslewicz said he called Walker immediately after his successful gubernatorial campaign and followed up several times afterward, but never received a response.
"If this is an indication of how Scott Walker's going to run his administration, I think we're in for a very long four years," Cieslewicz said. "He's got to understand he's governor of the entire state and all the people, not a couple of radio hosts in Milwaukee."
Representatives in Barrett's office on Monday said the mayor was not immediately available for comment, but that Barrett, Walker's opponent in the gubernatorial election, also hadn't spoken to Walker since the election.
At a rally Monday in Milwaukee to support high-speed rail and job creation, Barrett criticized Walker's opposition to accepting federal money for the rail project.
"This is a happy period right now for the workers in California; this is a happy period right now for the workers in Florida, because they have leadership in those states that recognize that this has always been about creating jobs where people can support their families," Barrett said.
Walker spokesman Cullen Werwie would not say whether Walker tried to contact Cieslewicz or Barrett, but said Walker "followed through on his campaign promise to stop the Madison-to-Milwaukee train line."
"Governor-elect Walker will work with all local elected officials moving forward," Werwie added, "starting when he takes office in January."
Werwie did not offer specifics regarding when Walker might speak or meet with Wisconsin's mayors.
Although governors-elect do not always meet immediately with big-city executives, relations seem particularly strained between Walker and the Milwaukee and Madison mayors, said Charles Franklin, a University of Wisconsin-Madison political science professor and co-developer of Pollster.com.
"You've got the guy Walker beat (Barrett) on one hand, and Mayor Cieslewicz saying he can't wait for (Walker) to be the former governor," Franklin said. "That's pretty bad before the guy has taken office.
"I would assume at some point in the near future those relations would have to get a little better, just because so much of the state policy — in terms of education and funding for transportation — involves the cities."
Walker also could need help from Barrett and Cieslewicz to fulfill a jobs pledge, Franklin said, because mayors often are on the front lines for recruiting new businesses.
Some of Wisconsin's mayors will be in better standing than others with the Walker administration. For instance, before Green Bay Mayor Jim Schmitt announced last week he would seek re-election in April, Walker said he would consider hiring Schmitt for a cabinet post.
Like Schmitt, the mayors of Milwaukee and Madison could be around for much, if not all, of Walker's tenure as governor. Barrett has announced plans to seek re-election in 2012, and Cieslewicz also is up for re-election in spring.
While Cieslewicz asserted "the whole state's gonna have a difficult time working with Gov. Walker," the mayor also said he wants Madison to partner with the state.
"If he wants to turn around and embrace a modern economy, we're there to help him do it," Cieslewicz said. "He's not off to a very good start."
Cieslewicz cites Walker's opposition to stem cell research as another position that eventually could result in job loss from UW-Madison.
Cieslewicz has yet to discuss any of those issues with Walker. But, Cieslewicz said, "It wasn't for a lack of trying on my part."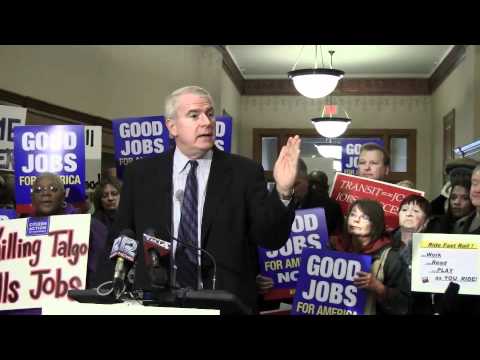 The Daily Reporter's Joe Yovino also contributed to this report.