Walker's Point project matches neighborhood's diversity
A combination of creativity and persistence turned a weed-choked former parking lot for trucks into the National Avenue Lofts housing complex in Milwaukee.
The $11 million, four-story, multifamily building, which is co-owned by Impact Seven Inc. and Dixon Development LLC, is in Walker's Point, a neighborhood connecting downtown Milwaukee, the Fifth Ward and the Bay View community. The C-shaped building, which surrounds a community green space, combines affordable living with the latest technologies.
But matching the variety of the community also posed a challenge for project designers with Continuum Architects and Planners SC.
"One of the biggest challenges was to create four different faces for the building so it was distinctive," said Falamak Nourzad, an architect with the firm.
He said designers carried that commitment to the exterior by creating four or five different apartment designs.
The building includes 72 apartments and multiple community spaces, such as a 24-hour fitness center, a community room, a patio and an on-site business center. The project also incorporates a green roof on the garage and LED fixtures throughout the structure.
But getting the project past the planning stage wasn't easy. The building received tax credits from the Wisconsin Housing and Economic Development Authority because the apartments are rented at below market rates, but that wasn't enough, said co-owner Todd Hutchinson of Impact Seven Inc.
The Federal Home Bank of Chicago provided the final piece of financing to make the project work.
The challenges continued once construction started. Crews discovered the site's soil conditions were worse than expected. To mitigate the marshy site, the project team planted more than 200 piles 100 feet below grade.
"They were able to complete the project under budget and ahead of schedule," Hutchinson said, "even though we were thrown a couple of nasty curveballs early on with poor soil conditions."
Residents began moving into the National Avenue Lofts before the end of 2011. Hutchinson said the apartments filled up quickly, which demonstrated the high demand for affordable housing in the neighborhood.
That housing, Nourzad said, reflects the neighborhood. The building's exterior, with hung metal balconies and corrugated metal panels, recalls the neighborhood's industrial past when several manufacturers called the area home, he said.
"The building reinforces the urban fabric," Nourzad said, "by creating a strong street edge along National Avenue."
— MaryBeth Matzek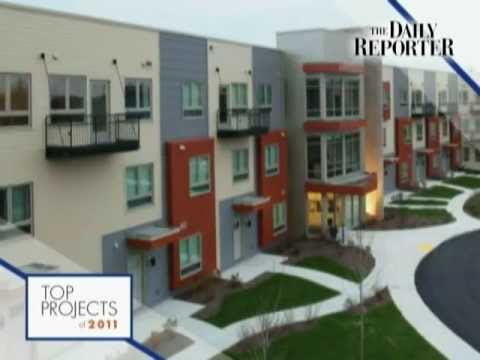 Location: Milwaukee
Submitting company: Continuum Architects and Planners SC, Milwaukee
General contractor: Kelly Construction & Design Ltd., Milwaukee
Architect: Continuum Architects and Planners SC
Engineers: Jahnke & Jahnke Associates Inc., Waukesha (civil); Graef-USA Inc., Milwaukee (structural); Key Engineering Group Ltd, Milwaukee (environmental); Lemberg Electric Co. Inc., Brookfield (electrical); Envira-Tech Inc., Waukesha (mechanical); Alpine Plumbing Inc., Brookfield (plumbing and fire protection)
Owners: Impact Seven Inc., Almena; Dixon Development LLC, Milwaukee
Project size: 275,000 square feet
Project cost: $11 million
Start date: December 2010
Completion date: November 2011