Construction crews, librarians coexist for expansion project
From roof to basement, the project team for the Kilbourn Public Library renovation and addition had plenty of challenges.
Fortunately, that didn't include a team of librarians shushing every move.
"They put up with us," said Bill Kolar, project manager with Kraemer Brothers LLC, Plain, which handled construction of the library job.
"It wasn't that big a project, but it just had so many elements, from geo-piers to a rain garden to complex building structures.
"There was never a dull moment."
The excitement started with the excavation of a basement for the expansion next to the library.
"So, we had to excavate 6 to 8 feet below the existing footing line," Kolar said, "and, in doing so, we ran into soil conditions."
The rock, clay and water meant difficult and time-consuming excavation, shoring up the existing building line and installing geo-piers filled with stone to stabilize the 10-foot-high foundation.
"When we drilled down for one geo-pier," Kolar said, "we even hit a storm sewer that was abandoned years before.
There was just so much going on."
That theme continued when the project team turned its attention to the roof.
"There were turrets and roof projections," Kolar said, "and a lot of compound angles on the roof where the buildings met because it wasn't by any means a symmetrical building."
Through it all, the library remained open except for a five-day window after project completion when librarians took time to move books and re-stock shelves. Otherwise, construction crews and library staff were separated by the thinnest of partitions.
"When I look at it now I think, 'Oh gosh, we were so close,'" said Cathy Borck, library director at Kilbourn, which serves Wisconsin Dells and Lake Delton.
Communication between contractors and librarians was essential in such close quarters. Librarians reviewed all of the plans and offered ideas about work spaces and book storage before construction began.
Once the work started, the librarians carved out corners for the construction crew. The teamwork saved three to four weeks on construction and proved that librarians and noisy construction crews can exist in close quarters.
"We had our one small desk with everyone crowded behind it," Borck said. "It made for some interesting days, but it felt like something we had to do for our patrons.
"And they were understanding. They put up with the dust or, occasionally, a funky smell."
— Jessica Stephen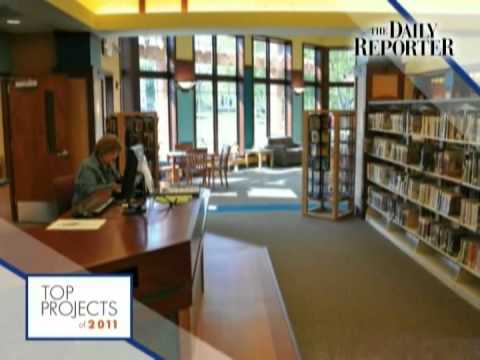 Location: Wisconsin Dells
Submitting company: Kraemer Brothers LLC, Plain
Construction manager: Kraemer Brothers LLC
Architect: MSA Professional Services Inc., Madison
Engineer: Arnold & O'Sheridan Inc., Madison
Owner: Kilbourn Public Library, Wisconsin Dells
Project size: 14,000 square feet
Project cost: $2.5 million
Start date: August 2010
Completion date: May 2011