Madison YWCA tackles ambitious renovation to fulfill promise
When a leaking roof and outdated mechanical systems began to threaten the YWCA's central mission — providing shelter and affordable housing to Madison's disadvantaged population — the organization knew it was time for a major renovation.
"We had done what we could to maintain the building but unfortunately there were some major repairs," said Debra Schwabe, development and marketing director for the YWCA. "We decided that if we were going to replace the roof that we just needed to do a rooftop to basement renovation."
It was no small feat.
Formerly the Belmont Hotel, the building at 101 E. Mifflin St. towers 12 stories above bustling Capital Square. And although the building's overall structure was in good shape, said Peter Szotkowski, director of business development at Madison-based Vogel Bros. Building Co., preserving the building's historical features would prove to be a tedious process.
With limited space, the company set up a scaffolding system to complete the building's exterior projects, which ranged from replacing windows, to repairing cornices, restoring decorative sheet metal roofing and replacing grout to preserve the building's original brick façade.
"On the exterior of the building we basically did one face at a time," said Dave Torkelson, project manager. "We erected scaffolding, mesh to control debris and jumped it, like leap frog, around each corner."
Throughout the yearlong renovations, the building remained occupied by the YWCA's 150 residents. Renovating floor by floor, the builders installed elevators, a central heating and cooling system, and reconfigured housing units for accessibility and space. In addition to including a few kitchenettes, each unit received a fresh coat of paint, new furnishings and flooring.
In one case, contractors ripping out old carpet were surprised to find the hotel's original marble flooring beneath, Torkelson said.
The $17 million project was paid for in part through a $9.8 million grant from WHEDA, made possible because of the site's historic value and the organization's mission. Schwabe said a $2 million capital campaign helped to fill in the gaps. The renovation began at the height of the recession, making it difficult to secure an investor for the project, she added.
As part of the grant, at least 25 percent of the renovation had to be completed by Disadvantaged Business Enterprises, emerging businesses operated by women and minorities.
With the demand for affordable housing still on the rise, Schwabe said the project couldn't have come at a better time.
"It really is a community," Schwabe said. "It feels a lot like home."
— Stephanie Beecher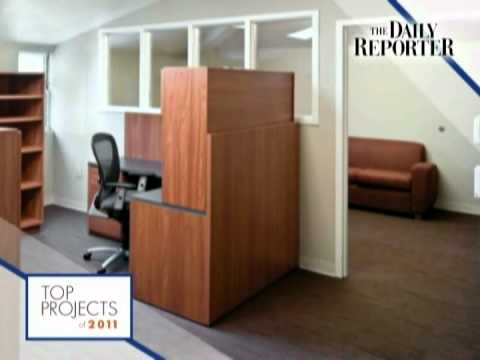 Location: Madison
Submitting company: Vogel Bros. Building Co., Madison
Construction manager: Vogel Bros. Building Co.
Architect: Isthmus Architecture Inc. , Madison
Engineers: Hooper Corp., Madison (plumbing & fire protection); North American Mechanical Inc. (HVAC); Electric Construction Inc., Madison (electrical)
Owner: YWCA Madison, Madison
Project size: 62,400 square feet
Project cost: $10.2 million
Start date: Jan. 18, 2010
Completion date: Jan. 14, 2011