Salvation Army's Kroc center remains focused on those it serves
When a building is constructed for the community as a whole, it becomes imperative that it is a living, breathing part of the community. The Ray & Joan Kroc Corps Community Center in Green Bay is an example of such a building.
"We realized this was much more than just constructing a new building for The Salvation Army, it was about people," said Paul Auer, of Neenah-based Miron Construction Co. Inc., which took the reins of the project with Berners-Schober Associates Inc., Green Bay, and Denver-based Barker Rinker Seacat Architecture.
Joan Kroc, widow of McDonald's founder Ray Kroc, left a staggering $1.5 billion to The Salvation Army to build 27 centers across the U.S. after her death in 2003. Green Bay's Salvation Army competed against 39 others in the Midwest to receive the gift. The 102,000 square-foot center, which was completed in July 2011, boasts a dental clinic for low-income children, fitness center, meeting rooms, aquatic center, 500-seat auditorium, computer lab, childcare space, game room and commercial kitchen.
"Our members, day-pass users and visitors are thrilled with the facility that they are using," said John Manser, director of operations for The Salvation Army. "They love the attention to details, quality finishes, state of the art technologies, etc. They love that their entire family has activities to participate in at the same time."
But the project didn't come without its challenges: construction was to be completed in 13 months, so there was no room for error.
"The team decided to spend more time in design to make sure we got the building design right," Auer said. "So based on when the drawings were completed and what we had left for time, it ended up being 13 months."
As with any community-focused building, staying relevant for the next generations also was a huge part of the concept.
That's why sustainable features seamlessly have been incorporated with beautiful design. Recycled building materials, water efficiency, indoor air quality and local purchasing are prominently represented. Symbolic design features such as the towering church steeple, bold masonry coupled with modern metal elements and bringing the outside in (the center sits near wetlands and a small stream with abundant wildlife) offer users of the center a relaxing retreat.
"We created various spaces throughout the building that help tell The Salvation Army story so the community could see what The Salvation Army was all about," Auer said, "and that this was more than a building."
— Shayna Miller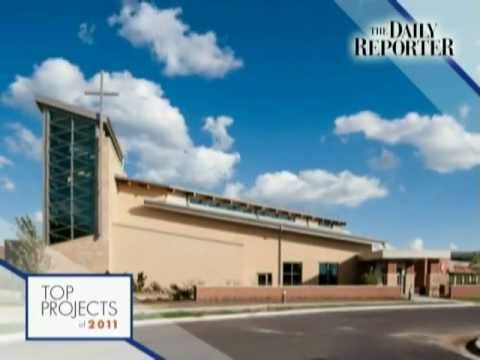 Location: Green Bay
Submitting companies: Miron Construction Co. Inc., Neenah
General contractor: Miron Construction Co. Inc.
Architects: Berners-Schober Associates Inc., Green Bay; Barker Rinker Seacat Architecture, Denver, Colo.
Engineer: Berners-Schober Associates Inc.
Owner: The Salvation Army, Green Bay
Project size: 101,927 square feet
Project cost: $25 million
Start date: April 1, 2010
Completion date: July 8, 2011