Installing state-of-the-art Miller Park scoreboard calls for 'blind pick'
To get a second look at that 10th inning, playoff clinching single by Milwaukee Brewer Nyjer Morgan, thousands of fans at Miller Park turned their eyes to the centerfield scoreboard.
Those fans had a viewpoint not afforded to the team that removed the old scoreboard and installed the state-of-the-art, $10 million stadium centerpiece before the 2011 season.
Early on in the planning, M.A. Mortenson Co. and its project team realized the crane that would pull out the three pieces of the old scoreboard didn't fit through the stadium loading dock tunnel. Crews opted for a "blind pick," in which the crane operator is guided but cannot see what is being lifting.
It's not uncommon at tight job sites but also usually doesn't pertain to the removal of a scoreboard through the roof of a baseball stadium. Mortenson and contractors poured over logistics for a week, mapped out the ideal day for calm weather and, after taking a day to build the crane, held a dry run with weights.
Looming over any big construction project is the ballpark's grim history with cranes. The Workers Monument near the north fan entrance memorializes three construction workers killed when the massive Big Blue crane collapsed during the erection of the stadium in July 1999.
All the planning led to the quick and spotless transfer of the old scoreboard to the parking lot outside, said Matt Cool, Mortenson senior superintendent.
"All of the facets that come into play with crane picking, we did that and then some to make sure the pick went smoothly," he said. "There's just a lot of planning to make sure you do it right. You get one shot to do it right."
It was less difficult installing the new scoreboard. Although it dwarfed the previous board, the crane needed to hoist it was built inside the stadium for a more traditional placement. The new, 5,940-square-foot board, provided by South Dakota-based Daktronics, includes video 20 times the resolution of the previous board.
After the board and its myriad technical components were fastened in place, Brewers audio/visual staff had about eight weeks to get up to speed on the enhanced capabilities from a new scoreboard control room. That included consultations with sports video and software experts from the U.S. and Canada.
A quick turnaround, but one that amplified the ballpark's entertainment value and garnered "nothing but positive reviews," said Teddy Werner, Brewers senior director of business operations.
"For the next generation of baseball fans," he said, "this technology is the type of thing you expect to see when you're at a baseball game."
— Justin Kern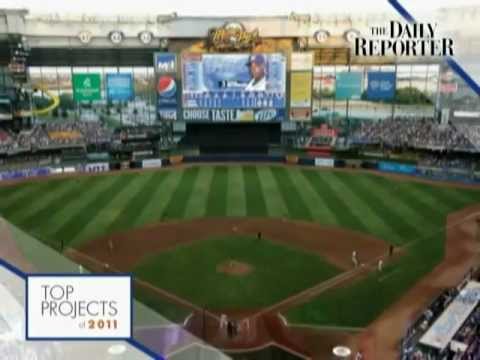 Location: Milwaukee
Submitting company: M.A. Mortenson Co., Minneapolis, Minn.
Construction manager: M.A. Mortenson Co.
Architect: Uihlein/Wilson Architects Inc., Milwaukee
Engineer: Thornton Tomasetti Inc., Madison
Owners: Miller Park Southeast Wisconsin Professional Baseball Park District; Milwaukee Brewers Baseball Club Inc., Milwaukee
Project size: 5,940 square feet (video board)
Project cost: $10 million
Start date: Nov. 1, 2010
Completion date: April 1, 2011