GREEN PROJECT
University kicks off recycling education with project
The new Waste Education Center at the University of Wisconsin-Stevens Point began its teachings long before it was built.
Throughout construction, crews worked to recycle waste in every way possible. As a result, general contractor Altmann Construction Co. Inc., Wisconsin Rapids, and its partners were able to recycle 96.4 percent of construction waste.
"Altmann was very diligent and creative in how they went about recycling," said Ralph McCall, senior project manager for WasteCap Resource Solutions Inc., Milwaukee, which helped set up the recycling effort and track the numbers.
It helped that the 12,000-square-foot facility was going up near the campus' existing recycling center. It also helped that Altmann and its partners were able to tap resources near the site as drop-off spots.
"We used the closest local providers that we could find," said Scott Thurber, project manager.
Providers included Badger Iron Metal & Auto Inc., in Wisconsin Rapids, and American Asphalt of Wisconsin, in Mosinee. On-site carpenters took wood scraps home, as well.
The result was a total of 354.59 tons recycled, which included: 280.96 tons of asphalt; 67.83 tons of concrete and masonry material; 4.1 tons of metal, wood and other miscellaneous materials; and 1.17 tons of cardboard.
This, despite initially finding unexpected debris buried on the property, which previously was just a parking lot.
"Someone had just dumped junk in the lot at some point in time," said Ellen Casebeer, assistant project manager at Altmann. "Concrete, metal, everything under the sun. It was just a bunch of rubble."
Further complicating matters: Much of the construction was done during the school year, calling for work-arounds, including alternative entry to a parking lot.
Regardless, the building was ready for the 2011-12 school year. It now provides students with landfill, recycling, composting and hazardous waste management training and includes a small-scale wastewater treatment plant.
Students and community members seeking waste management education use the state-of-the-art facility regularly.
A portion of the building also functions as a materials recycling facility for the 10,000-person campus, handling cans, bottles, plastic and cardboard – lots of cardboard.
"The students eat a lot of pizza," said Carl Rasmussen, UW-Stevens Point director of facilities planning.
The integration of recycling from beginning to end is a nice sign of the times, Rasmussen said.
"It's a societal change," he said.
— Mary Dorian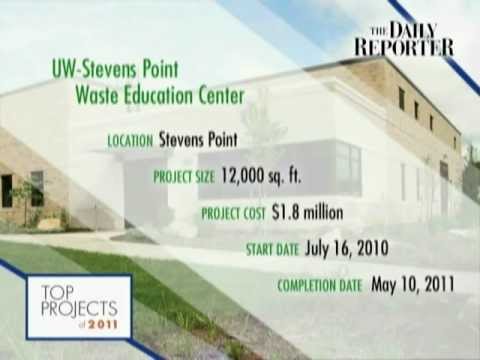 Location: Stevens Point
Submitting company: Altmann Construction Co. Inc., Wisconsin Rapids
General contractor: Altmann Construction Co. Inc.
Architect: AECOM Inc., Sheboygan
Owner: Wisconsin Department of Administration-Division of State Facilities, Madison
Project size: 12,000 square feet
Project cost: $1.8 million
Start date: July 16, 2010
Completion date: May 10, 2011