Beaver Dam partners with Kraft Foods to turn waste into energy, revenue
By Justin Kern
Dealing with dairy factory excess could qualify as a classic Wisconsin problem.
Private and civic entities teaming up to turn that frothy waste into a revenue and power source is an uncommon solution.
Five years ago, Beaver Dam conducted a state-required review of the city's wastewater plant and found an aging site operating at up to 170 percent of its design capacity.
City planners and contractors also came across another institution in town, the Kraft Foods cheese production plant, investigating its own waste-management future.
That Kraft factory produces about 180 million pounds of various cheese products a year and creates millions of gallons in high-strength whey and other byproducts. That waste was often trucked from the Kraft site and spread on area farmland.
The two independent reviews eventually became one as Kraft plant operators and Beaver Dam planners spent years searching for common ground between the needs of the city and those of the company. Those meetings resulted in Beaver Dam revising its plant designs to include pre-treatment of Kraft's specific dairy waste and systems that would be used to turn that byproduct into biogas, a heat and electricity deposit to the grid that promises $500,000 in annual revenue for the city.
"Kraft and Beaver Dam, the two were really meeting in the middle on benefits," said Wayne Karlovich, project manager with Applied Technologies Inc., Brookfield, which the city hired to design the plant. "Kraft doesn't have to worry about running a wastewater treatment plant, and the city gets some power back to sell to Alliant Energy."
The resulting $20.6 million plant includes a dissolved air flotation container and a 790,000-gallon anaerobic sludge blanket reactor, which converts Kraft wastewater to the biogas.
The city also upgraded the wastewater structure and campus, and the revamped plant now can handle loads of up to 15 times Beaver Dam's present population.
The cooperation and green reuse from the project "scored high" on the state's list of ventures open to stimulus money, leading to a $10 million American Recovery and Reinvestment Act grant, said Bernie Robertson, Wisconsin Department of Natural Resources construction manager. Robertson said his agency was intrigued by the Beaver Dam partnership.
"This opportunity puts a lot of the onus of responsibility on the city," he said, "and obviously Kraft is very reliant on them now. It's been very positive and they have been willing partners in this venture."
— Justin Kern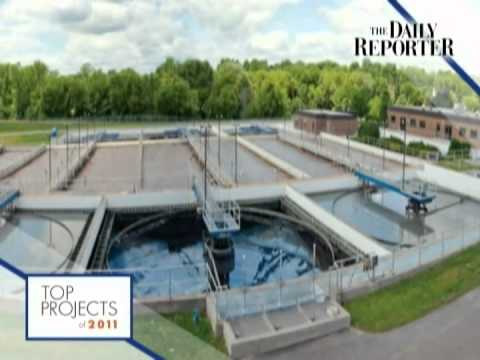 Location:
Beaver Dam
Submitting companies: J.F. Ahern Co., Fond du Lac; Wisconsin Department of Natural Resources, Fitchburg; Applied Technologies Inc., Brookfield
General contractor: C.D. Smith Construction Inc., Fond du Lac
Architect: Applied Technologies Inc.
Engineer: Applied Technologies Inc.
Owner: City of Beaver Dam Wastewater Utility, Beaver Dam
Project size: 20,000 square feet
Project cost: $20.5 million
Start date: April 20, 2009
Completion date: Oct. 25, 2011