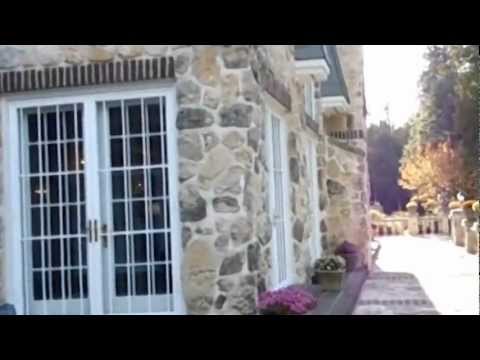 Marty Brice has been a general contractor for about 25 years, and he usually follows the contractors' code of remaining phlegmatic no matter what the project or the complication.
Then he saw the blueprints for Sur la Baie, a single-family home (a laughable zoning designation, in this case) to be built on 80 acres overlooking Ellison Bay in Door County.
"When we first looked at the plans," the De Pere builder said, "it was like, 'Oh my goodness.'"
Sur la Baie, or Above the Bay, was destined to become the largest single-family home in Wisconsin. The square footage of the main house tallies out to a whopping 35,000. To put it into perspective, Gov. Scott Walker and his family have to make do with a Madison mansion that measures a paltry 20,000 square feet.
Sur la Baie, or, as neighbors call it, The Big House, has 43 rooms, 10 bathrooms, seven fireplaces, four bedrooms (including a 5,000-square-foot master suite consisting of seven rooms), a 14-seat art deco movie theater complete with ticket booth and two concession stands, a grand hall, a walnut-paneled two-story library, and an indoor pool and spa. It's enough to make a contractor show emotion, maybe even raise an eyebrow.
"If you looked at it as working on four or five different houses wrapped within one shell," Brice said, "it was easier to imagine."
Construction of the French-inspired home started with a bang. The Liberty Grove site was on a bluff, so crews excavated with explosives for about five months. Neighbors were less than thrilled with owner Judith Blazer, the heir to The Miller Group Ltd., an Appleton-based company that manufactured arc welding equipment.
"A lot of people in the community were upset about it," said one neighbor, who asked not to have her name used. "But she did an awful lot for the community. There are two sides to the story. She gave gifts to the neighbors for what they had to put up with for the build."
In July 1996, three years after construction began, Brice and his crew packed up their trucks for the final time. He has built several large houses since, but nothing compares to The Big House.
"It's something to put a feather in your hat," he said, "But it was time to get back to where we left off. We definitely were walking out of there on a high note."
Now, Sur la Baie, which is assessed at $14,901,200, is on the auction block. Blazer sold the estate in 2005 to Frank and Annie Spitzer, who never saw The Big House in person. Annie fell ill shortly after closing and died before they could move from California. Frank decided against moving to Liberty Grove, and died in 2011.
Northbrook, Ill.-based Hilco Real Estate Auctions closed bidding Wednesday afternoon. Potential buyers had the option of bidding on the entire property or four separate parcels. The Spitzer estate has five days to review the bids.
Folks in Liberty Grove eagerly are awaiting the results. After all, the property accounts for about $24,000 in tax revenue for the town, a large chunk of its $1.6 million budget, said Janet Johnson, the town treasurer.
"Let's put it this way," Johnson said, "they are the single largest taxpayer."
And the builder of that single largest house still wears, if only figuratively, that feather in his hat. "If you truly enjoy what you do," Brice said, "it was a challenge we were really excited about."
Jeff Cota is the copy editor for The Daily Reporter. He can be contacted at 414-306-1825 or jeff.cota@dailyreporter.com.