A big top won't be going up over Rawson Avenue and Interstate 94, but the roadwork team at that site still is preparing for the industry's version of a circus.
The Wisconsin Department of Transportation is replacing the Rawson Avenue bridge in Oak Creek as part of the Interstate 94 north-south freeway project. Demolition begins Tuesday but the real show starts in the center ring in mid-June.
Until then, the din of generators, passing traffic and the rhythmic beat of a nearby pile driver continues while crews finish the twin decks on either side of I-94. Precast concrete girders were built off-site and placed on temporary supports called shoring towers, according to WisDOT. Those girders await the project's strongman, a Mammoet Self-Propelled Modular Transporter, to take command of the spotlight. It's a crowd pleaser.
It's huge in Utah.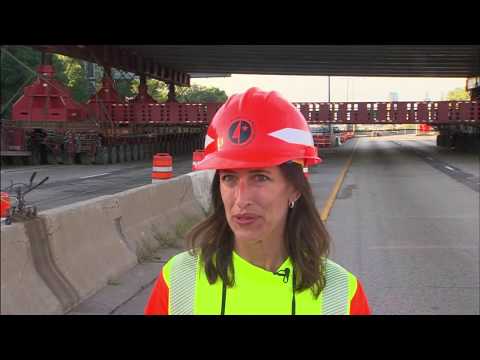 A project in Salt Lake County that used the SPMT for a move once attracted 4,000 to 5,000 spectators, according to the Utah Department of Transportation. Hot dog vendors even showed up.
Mammoet, a Dutch company with offices around the world, tours the country moving bridges and other large and heavy loads.
In Oak Creek, the SPMTs, operated remotely by an engineer, will be moved under the roughly 3 million-pound decks to lift them. That's not much weight for one of these machines. They can lift as much as 15,000 tons.
And they can move in nearly any direction. Each SPMT consists of four or six axles, which can pivot 360 degrees to lift a span and carry it in any number of ways, including crab and carousel moves.
An SMPT won't break any land-speed records, but it can keep up with the average pedestrian, even with 3 million pounds on its back. Moving at a walking speed will enable the SMPT to move both decks in about two hours, according to WisDOT.
But an audience for a show like this wants to gasp with surprise and delight. People want substance, some bang for their buck. The SPMTs deliver.
Using traditional methods, WisDOT would have to close the bridge for about five or six months. The SPMTs will reduce the closure to about three weeks.
The machinery also increases safety on the site.
Usually, a project such as the Rawson Avenue bridge rebuild requires that crews work on what amounts to a tight wire while traffic passes beneath them. Building the bridge on either side of I-94 lets those workers do their jobs in a more controlled environment, avoiding the risks presented by the clowns in cars ignoring construction-zone speed limits.
Really, one of the only things missing from the Rawson Avenue bridge project will be a barker, standing at the edge of the site, announcing to the ladies and gentlemen, and children of all ages, that the circus is about to begin.
Jeff Cota is copy editor of The Daily Reporter and afraid of clowns. He can be reached at 414-225-1825 or at jeff.cota@dailyreporter.com.